Reduce your stress and restore your hope
In One Hour You Will Feel...
Less Stress

More Hope

Increased Energy
My wife got a cancer diagnosis and our life was turned upside down.
Now it's over and we both survived.
She survived the cancer and I survived taking care of her!
If you or someone you care about has just received a cancer diagnosis, I have a pretty good idea how you feel.
We got through it, and so can you.
Let me show you how..
This is a scary time, no doubt about it
If you're like we were, you are wondering:
"This is overwhelming - how will we ever get through this?"
Believe me, I know how that feels because we went through it too when my wife was diagnosed with breast cancer.
Iím GLAD you found me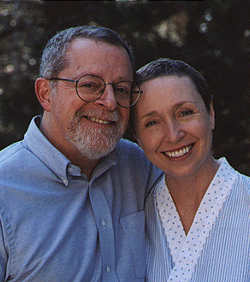 ...because I can help you get through it.

I canít give you medical advice because Iím not a doctor.

I canít tell you what is going to happen to you because Iím not a fortune teller.

But I can help you cope, because I went through it with my wife Chris when she had breast cancer. And then again when it came back. And then again when it came back a second time. And even once more after that! (She is doing fine now.)

Needless to say, I learned a lot during those four bouts with breast cancer.

How did we get from "I can't do this" to "I did this?"

It turns out that we used tools to deal with the situation. I'm not talking about hammers and saws, but rather specific, doable techniques that made the difference.

I call these techniques the "11 L's of Caring and Coping" and I have been sharing these ideas with thousands of people all over the country.

I have a ton of practical, doable ideas to help you cope

Here is one idea that you can use right now!

Now you can learn all of my coping strategies in the comfort of your own home

"You Can Handle More Than You Think You Can" will teach you the "11 L's" with laughter and touching videos like the one you just saw above.

I'm ready to learn new coping skills

"You put hope in my heart..."

~Pat Smith, former reporter for People Magazine and author "Alzheimer's for Dummies"

There is plenty of humor

Cancer isn't funny, but I share many ways that we used humor to lighten the mood. For example...

I'm ready to laugh and learn new coping skills

You will be moved and inspired

You will remember the conclusion of this program for a very long time:
I'm ready for LESS STRESS and MORE HOPE
"You Can Handle More Than You Think You Can" is a DVD
Order now on our secure server and we will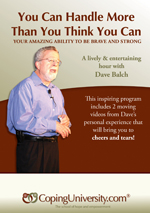 ship your DVD immediately!
I agree to make one payment of $17.00 and get free standard shipping!
© Dave Balch - ALL RIGHTS RESERVED
P.O. Box 824
Twin Peaks, CA 92391